Partnership with EOHA for $20M Rehab of Vista Village Apartments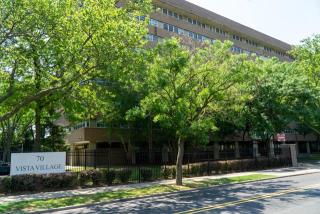 GENESIS COMPANIES ANNOUNCE PARTNERSHIP WITH EAST ORANGE HOUSING AUTHORITY FOR $20M REHABILITATION OF VISTA VILLAGE APARTMENTS
180-Unit Residence for Seniors and Adults with Disabilities Will Receive Major Building Upgrades and Long-term Affordability Status
NEW YORK, NY, October 10, 2018 – Genesis Companies, a minority-owned developer of affordable housing, today announced a partnership with the East Orange Housing Authority to begin an approximately $20 million rehabilitation of the Vista Village Apartments, a 100 percent affordable building for seniors and adults with disabilities in East Orange, NJ. Located at 70 South Burnet Street, the building will undergo moderate unit and common area rehabilitation to address deferred maintenance and wear and tear from aging, while receiving energy and critical systems upgrades. Construction began August 2018 and is expected to conclude by May 2019.
The 9-story, 180-unit former public housing development was approved for the U.S. Department of Housing and Urban Development's Rental Assistance Demonstration (RAD) program, under which all residential units in the project will be subsidized through the Project-Based Section 8 program, a government-funded program that provides rental housing to low-income households in privately owned and managed rental units. All units will be restricted to households earning 60 percent of area median income (AMI), and half will be restricted to households earning 50 percent AMI, on a long-term basis as part of the project's commitment under the Federal Home Loan Bank of New York's Affordable Housing Program.
"This unique public-private partnership between Genesis and the East Orange Housing Authority to rehabilitate and maintain the long-term affordability of the Vista Village Apartments is a testament to our belief in affordable housing and the tremendous role it plays in New Jersey," said Karim Hutson, founder and managing partner at Genesis Companies "Our work with the East Orange Housing Authority furthers our mission of keeping urban communities accessible to everyone, and Vista Village allows us to preserve and provide quality housing for New Jersey's senior population."
"As former Board Chairman of the East Orange Housing Authority, I understand how important public-private partnerships are to the growth of quality affordable housing and I thank Genesis Companies for making such a critical investment in the City of East Orange," said Mayor Ted R. Green. "Now, as Mayor, I am looking forward to supporting and expanding partnerships like this one that will bring much-needed improvements to our housing for seniors and disabled."
"This is a historic milestone in the 60 plus year history of the East Orange Housing Authority," said Wilbert Gill, Executive Director of the East Orange Housing Authority. "This project, among many, continues our Building Homes, Changing Lives Campaign and an example of our mission in action to holistically enhance the quality of life through partnerships, social services and sustainable housing opportunities." Gill also stated, "Our partnership with Genesis and The City of East Orange is an example of accessing additional resources to strengthen capacity to expand our housing stock of affordable housing while improving the lives of our residents."
The building is fully-leased, and most residents will remain in their apartments during rehabilitation. A full array of supportive services will continue to be available to residents through the Housing Authority's existing programs and several units will be converted to meet the needs of residents with disabilities. 
Financing for the project's rehabilitation was originated by the New Jersey Housing and Mortgage Finance Agency under a conduit structure with Citibank. Additional financing includes approximately $7 million of Low-Income Housing Tax Credit equity from the sale of 4 percent tax credits syndicated by the National Equity Fund, Seller Financing from the East Orange Housing Authority, and a Federal Home Loan Bank of New York Affordable Housing Program award of $2.171 million.
###
About Genesis Companies
Genesis Companies is a full-service development and construction firm enhancing communities in New York and New Jersey. Founded in 2004, Genesis is staunchly committed to community engagement and disciplined analysis. Boasting leadership with over 30 years of experience in multifamily development, the Genesis portfolio includes 57 buildings representing 1,144 residential units and approximately 1.1 million square feet of utilized space, which are completed and/or in development. Genesis properties encompass low- and moderate-income housing, mixed-use properties and commercial development.
Working with cultural institutions, churches and mosques as well as other minority and women-owned businesses, Genesis emboldens the vitality of diverse and complex neighborhoods. Through strategic ventures, Genesis enables governments, nonprofits and landowners to optimize real estate.
For more information, visit genesiscompanies.com.
Media Contact:
Matt Lawyue
matt.lawyue@berlinrosen.com
646-200-5335